Mosquitoes Southeast MI
Our Mosquito programs are second to none! Our mosquito applications will let you and your family enjoy the outdoors without being eaten alive! All materials used are registered by the EPA for use on mosquitoes and their resting areas. Our professional, proactive approach to mosquitoes cannot totally eliminate all mosquitoes, but will greatly reduce the mosquito population around your home. Larvicides are used in standing water to eliminate mosquito eggs. 
Pre-Party Application
(Weddings, special events, etc)
Have your next party or special occasion be pleasant and mosquito free! Applications will be effective for up to 3 weeks afterward.
Homeowner Association / Subdivision / Small Group Discounts are available
Seasonal Programs (2 months- 5 month programs)
Enjoy the summer with tailor made programs for the months you want done.
The Key to Reducing the Mosquito Population is a Dual-Approach: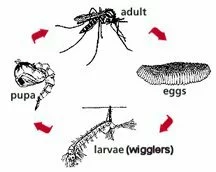 Treat egg-infested water areas AND Adult landing areas. Adult mosquitoes are killed on contact, and larvae are prevented from becoming breeding, biting adults.
Water is how we Contribute to mosquito life. Mosquito eggs thrive in water, namely the standing water present in areas like ponds, wading pools, flowerpots, clogged gutters, birdbaths, puddles, and tree holes. After emerging from such water areas in the adult state mosquitoes will travel as far as 1/4 mile to mate and draw a blood meal.
Four Steps:
Step 1: Inspection for possible breeding and resting site.
Step 2: Recommendations for correcting conditions contributing to mosquito
development, breeding and resting sites.
Step 3: Applications of mosquito reduction products, both larvicides and adulticides.
Step 4: Routine monitoring and treatment of site.